Appleton, WI
Brookfield WI
Eau Claire, WI
Fort Atkinson WI
Greendale WI
Greenfield WI
Green Bay, WI
Janesville, WI
Jefferson WI
Kenosha, WI
La Crosse, WI
Madison, WI

Menomonee Falls WI
Middleton WI
Milwaukee, WI
Oak Creek WI
Oshkosh, WI
Port Washington WI
Racine, WI
Sheboygan, WI
Watertown WI
Waukesha, WI
West Allis, WI
West Bend WI
Whitefish Bay WI
Leather Upholstery Repair
& Vinyl Upholstery Repair
Madison WI
Leather Repair, Leather Upholstery Repair & Restoration
Vinyl Upholstery Repair
Leather Care & Leather Cleaning
Call 608-839-7532
We serve the Middleton WI area including
Madison, McFarland, Mount Horeb, Waunakee, Oregon,
Monona, Sun Prairie and the entire Dane County area.
AutoColor's experts at auto upholstery repair and maintenance help your car keep looking, feeling and smelling new. You spend all of your driving time in the interior of your car, so why not make it feel like new all of the time. Repair is always much less expensive than replacing, especially when it comes to your interior.
Auto upholstery repair covers a wide range of services. If you feel your interior is starting to show some signs of wear and tear, there is a great chance we can recondition your car to a level that will make you smile
Our auto upholstery repair professionals help you in whatever area of care maintenance you need to keep your car's interior looking like new. We provide a variety of professional services, including:
Auto Upholstery Cleaning – we provide reconditioning services for part of or your entire interior
Auto Upholstery Repair – our skilled technicians can help repair leather or other materials anywhere in the interior of your car.
Auto Upholstery Spot Repairs – whether you need mending of fabric or leather, need fabric to match, or need panels replaced within your car, the Auto Color pros can get the repair made at the highest possible quality level.
Leather Repair, Leather Upholstery Repair & Restoration
Vinyl Upholstery Repair--Plastic Repair
Call us today at (262) 223-3840
or



Visit Our Website

is the worldwide leader in leather repair & specializes in leather upholstery repair as well as vinyl upholstery repair. They can restore the original color of your leather as well as recondition it, or even re-dye it to the color of your choice. Your worn and faded leather can look new again, and your Fibrenew professional can do these repairs in your home or office, or wherever your auto, boat, RV, & even your plane is located. Plastic repair like door mouldings, dashboards, and consoles can even be repaired.
Serving Waukesha and Jefferson Counties in Southeast Wisconsin

We are mobile, and can come to you!


Fibrenew restores and refurbishes leather upholstery in addition to:
» Repairing & refurbishing leather trim in autos, boats, aircraft, &rv's
» Split, broken, & faded plastic automotive door trim moldings
» Cracked, faded & loose steering wheels
» Cracked and faded vinyl dashboards
» Torn leather, vinyl consoles, armrests, & door panels
» Leather couches, leather chairs and recliners repaired
» Scratched & worn leather furniture
» Re-dying & doing touch ups of leather furniture, jackets & boots
» and so much more...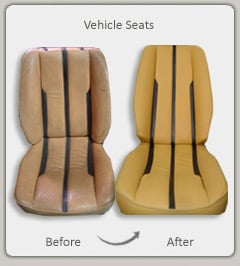 We serve the entire Milwaukee WI area including
the communities surrounding the areas below

Brookfield WI,
Cambridge WI
Delafield WI
Fort Atkinson WI
Jefferson WI
Lake Mills WI
Menomonee WI
Mequon WI
Muskego WI
New Berlin WI
Oconomowoc WI
Ripley WI
Waterloo WI
Watertown WI
Waukesha WI
Call us today at (262) 223-3840
or



Visit Our Website
Fibrenew also does auto upholstery repair, leather cleaning, vinyl repair & can even repair plastic like door mouldings, side panels on doors, or dashboards. They also do furniture repair on scratched burned, ripped, or torn leather.