Quincy, IL
Leather Repair & Vinyl Upholstery Repair

Addison, IL
Arlington Heights, IL
Bartlett, IL
Batavia, IL
Berwyn, IL
Bloomingdale, IL
Bloomington, IL
Bolingbrook, IL
Buffalo Grove, IL
Carpentersville, IL
Champaign, IL
Chicago, IL
Cicero, IL
Decatur, IL
Des Plaines, IL
Elburn, IL
Elgin, IL
Elk Grove Village, IL
Galesburg IL
Geneseo IL
Gurnee IL
Evanston, IL
Geneva, IL
Glenview, IL
Hanover Park, IL
Highland Park, IL
Hoffman Estates, IL
Joliet, IL
Lincolnshire IL
Long Grove IL
Milan IL
Moline IL

Monmouth IL
Montgomery, IL
Mount Prospect, IL
Mundelein IL
Northwoods, IL
Naperville, IL
Niles, IL
North Aurora, IL
North Chicago IL
Oak Lawn, IL
Oak Park, IL
Orland Park, IL
Palatine, IL
Park Ridge, IL
Payson, IL
Peoria, IL
Quincy, IL
Rock Island, IL
Rockford, IL
Rolling Meadows, IL
Roselle, IL
Saint Charles, IL
Schaumburg, IL
Skokie, IL
Springfield, IL
Sugar Grove, IL
Valley View, IL
Vernon Hills IL
Warrenville, IL
Waukegan, IL
Wayne, IL
West Chicago, IL
Wheaton, IL
Wheeling, IL
Leather Repair, Leather Upholstery Repair & Restoration
Vinyl Upholstery Repair--Plastic Repair

is the worldwide leader in leather repair & specializes in leather upholstery repair as well as vinyl upholstery repair. They can restore the original color of your leather as well as recondition it, or even re-dye it to the color of your choice. Your worn and faded leather can look new again, and your Fibrenew professional can do these repairs in your home or office, or wherever your auto, boat, RV, & even your plane is located. Plastic repair like door mouldings, dashboards, and consoles can even be repaired.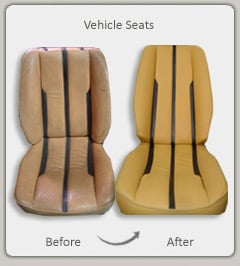 Fibrenew Restores and Refurbishes:
» Repair & refurbish aircraft plastic and leather trim
» Split and broken plastic automotive door trim moldings
» Cracked, faded & loose steering wheels
» Cracked and faded dashboards
» Torn leather & vinyl consoles, armrests, door panels & furniture
» Plastic surrounds of TV's, computers & speakers
» Scratched & worn leather furniture
» Touch ups & re-dye of leather furniture, jackets & boots
» and so much more...


Leather upholstery repair is our specialty,
and we can come to you!!
We serve the entire NW Chicago area including
the communities below

Addison IL
Bartlett IL
Bloomingdale IL
Carpentersville IL
Des Plaines IL
Elgin IL
Elk Grove Village IL
Glenview IL
Hanover Park IL
Hoffman Estates IL
Mount Prospect IL
Niles IL
Park Ridge IL
Rolling Meadows IL
Roselle, IL
Skokie IL
Schaumburg IL
West Chicago IL
Please call us and we'll be happy to answer any
questions you may have